We are a well established family business located Zandfontein Pretoria (Plot 251 Van der Hoff road).
The business was established in 2012 after two long existing family businesses merged.
In 2018 we changed the directors as the previous director was nearing retirement and wanted to slowly start scaling down, allowing a new young generation and a fresh approach to the already excellent business.
Between the previous and current directors we have more than seventy years worth of hands on experience and the best quality expertise in our field.
We keep the company small enough to make sure that each and every client and employee can be treated with the importance and respect that they deserve.
We are NOT one of those companies where you have to go through hundreds of procedures to HOPE that you can FINALLY speak to the boss… We are hands on and available.
Every last person in this company is friendly and love people. We always put our clients first, as their product is as important to them, as our business is important to us.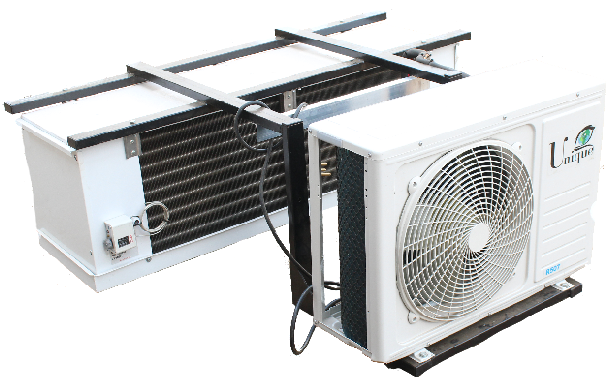 We do everything – from houses, small entrepreneurs, bigger shops, farms, big companies and abattoirs. As long as it has something to do with cooling or freezing we can help.
We assist many start up businesses with advice – from planning the start up, to full production, to the expanding of existing facilities. Because we know how much product can go into a room at a time, what types of rooms are needed for what, and also what people or customers tend to like.
We especially like helping small farmers etc in remote areas and especially in Africa, by giving them cost effective solutions that they can build themselves – thus saving them huge amounts of money on
installation / labour costs. You can say that is our "claim to fame".
We love travelling, so it is also no problem for us to travel to any place in both Africa and South Africa to do installations – big and small.
We have competent teams able to do problem solving, and eager to satisfy our client's every needs.
We do a lot of work outside the borders of South Africa, and we love meeting our neighbours on the rest of our lovely continent.
We can help with the cooling / keeping of anything your heart desires or your business needs. From vegetables, fruit, seed, wine, dairy products, fish, chicken, meat making and keeping of ice, and even bodies in mortuaries.
We've also built spray booths, offices, nurse's quarters and a whole lot more.
We work with engineers to ensure that your room suits your needs perfectly, and if you want something that we haven't done yet (which is unlikely), we will research the subject, learn about it and work with the engineers to ensure that you get exactly what you need / want.
We are an always inventing business that aims to please, have done a lot of work for almost all types of businesses and many different private clients, and are happy to say that we have an excellent track record.
Please have a look at our gallery and Facebook to see what we are up to.
You are more than welcome to come and visit us as well! We will treat you to a cup of coffee, tea or whatever you feel like, while discussing your specific needs in a friendly and relaxed atmosphere. Cool Africa is our name – keeping it cool is our game!